About Me
Hello & Welcome
To My About Me Page
Welcome to my About Me Page …
I believe Small Businesses are the backbone of the economy and create more
jobs than just about any other sector. Therefore, when they succeed they have
an enormous impact on the lives of their clients and employees. Most importantly,
by helping businesses succeed, I make a positive difference in all of those lives.
My name is Dave Smith
Lead Generation and Marketing Strategist …
Business Coach and Author
My Passion and What I Provide
Above all, my passion is for you, the Small Business Owner who scrapes, fights and battles
every day to earn a living. With that in mind, I offer my expertise to you as a way to reach the
ultimate pinnacle in life. That is to say, financial freedom for you and your family, along with the
ability to do whatever you want with your time and money. Most importantly, you probably started
your business because you have a true passion yourself for what you do. Further, when Marketing
is ineffective, owning your own business can become no more than working a poorly paying job.
At IMJustice Marketing, I try to get a message out through my About me Page. That is to say, I
understand compelling and successful Marketing. Consequently, Marketing that can provide the
financial freedom to pursue real, true ambitions in life. Likewise, I believe that everybody has a
cause, a cause that can be more fully pursued and supported when you're financially independent.
To sum up, I have the tools, resources and support to help you accomplish this. As a result, maybe
YOU can give me that chance to show what effective Marketing can do for you and your company.
My goal is straight forward … to help Business Owners get
more clients, close more sales and Market more effectively.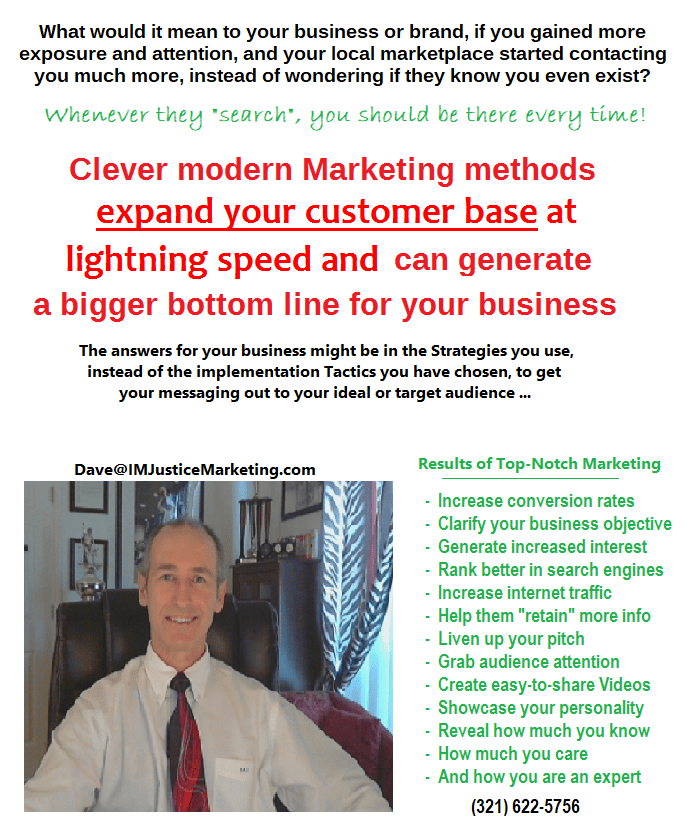 My Privacy Policy

     …     Terms & Conditions     …     SiteMap