Services
Small Business Owners lose their focus and get caught up in the every minute
of running their business. They must find ways to add value to their business, even
when they're busy. I know it's easy for Business Owners to become overwhelmed
with all they have to do, so to avoid this, I provide weekly tips, strategies, ideas,
lessons, and Ebooks or Reports. With the Silver Plus Package, there are 52 actual
Coaching Lessons on video. This information will teach you how to implement the
fundamentals you MUST have to build a million dollar business, or to grow bigger
and better than ever … It can help you build the business and life you want!
Think of these as your "recipe for business success"
Fill Out This Form
or just email me the answers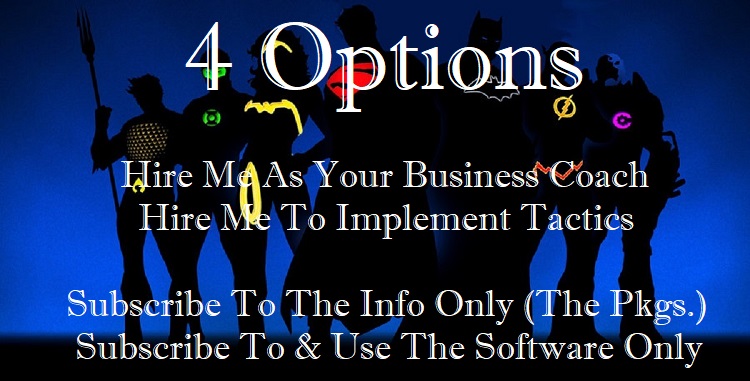 Or any combination you may decide on
The BIG 5

Marketing SEO & Brand Audits , Business Funding , Website Security (SSL) ,
Claiming your Business Online , and the "Speed" of your website(s).
Every one has a specific purpose. Some you are probably aware of, and
some, are from critical updates & algorithm changes that we MUST
comply with, or it will cripple our business and online footprint.
The importance of these crucial Tactical Services going forward, is far greater
than you know. They can be an obstacle for you to generate the revenue you
so desire and deserve. But, I can guide you or do them for you …
The Packages
Complete cutting-edge Strategies that work every day all over the world.
Every Small Business Owner dreams of building a multi-million dollar business.
So I created these Packages to help you do exactly that. And not take your entire
life to do it. Having these resources at your fingertips is a HUGE advantage for
any Business. It's comprehensive and can be overwhelming. But consider this …
World-class, cutting-edge strategies and tactics that will position you as a leader
in your profession, and delivered by a Business Coach, would be 2-10x more per
month (and even higher), than the prices JUST to get the same information.
∇
ANY Package chosen, will give you my favorite bonus:
The Million Dollar Business Card
Δ
Communications Package
Included …

Sales Tips … Articles, Blogs, Ebooks or Reports …
and … actual full Business Coaching Lessons …
You get something every 10 days in your inbox like clockwork …

Implement ONE tip, and your business may transform right in front of your eyes.
This package is great for those who may not want to hire me for their Marketing,
but would love to have powerful information or guidance that actually works …
Dive into it and work the information, or give it to your Marketing person or team …
Bronze Package
52 tested & proven Coaching lessons, from the top Business Coaches & Marketing Experts
who operate in 25 different countries. You will get 1 every 10 days, delivered to your inbox.
As always, communicating with me is open any time you need a sounding board, advice,
guidance, or assistance to grow your business … These are slightly more thorough
than what you may get in the Communications Package … Thus, the higher cost …
Silver Package
52 Business Coaching Ebooks … All with Strategies and Tactics to grow a business …
The lessons and tips are expanded here … "Templates" that are proven for success are
included as well … They include The Elevator Pitch, Ads, Compelling Messages, the
GAP Analysis templates, as well as the Conversion Equation Evaluator … Plainly, more
time and effort is provided here for your business success … Thus, the higher cost …
Silver Plus Package
With the Silver PLUS Package you will receive all the Silver Package
Ebook Lessons (actual complete and thorough Business Coaching Lessons),
but on VIDEO … Each Video is 20 – 40 minutes … As a bonus here: You will
get the Landing Page Template, and The Quick Start Coaching Workbook …
Gold Package – Tactical
This package will be all about implementation of Tactical Marketing methods.
When you want me to "perform" the Strategies chosen or agreed upon, this is
the package to choose for that. This is what brings the strategies to life …

Included in this list, are as follows:
Pay-Per-Click Ads (PPC), "Traffic Generation" monthly services plan,
Video Marketing, Digital Content Marketing, Blogging, Email Marketing,
List Building, Online Directories, Social Media Marketing, Press Release
Marketing, SEO Marketing, Reputation Management, and anything
related to Lead Generation.
There is a separate plan of action for Websites … Typically, $500 to create,
an additional $250 to $500 to optimize and fill with content … Also, there
will be a rather small monthly charge for the hosting and maintenance …
Gold Package – Strategic
In essence, this package is for hiring me to be your Business Coach …
This package will be all about Strategic Marketing tips, strategies and ideas.
There are an endless amount of Revenue and Profit Generating tested and proven
Strategies that transform any business … They work, and they are very effective …
As I will be your Business Coach, this is not the actual "implementation" like in the
Tactical Package I offer … If you favor using me for that purpose, then we will be
discussing the extra cost, or we could even change the "package" if that suits you.
I am your Business Coach, and I will help you achieve the business and life you
desire … Even if you take the information, and have your staff or another Marketing
Professional perform any strategy … And if you do so, I will be available to help
at any time for no added cost … It's knowledge you most likely have never had the
privilege to hear about, learn, or implement to grow revenue and profits immensely.
In most cases, this is NOT affordable by the Small Business Owner. I change that.
Premium Package
This is the best I have to offer to grow your business … You will get
a combination of BOTH Gold Packages … I am like your very own
Marketing Department … We will be communicating, talking Strategy,
and I will be implementing some useful Tactics to grow your business
better than ever … And the necessary time needed to get it done …
I don't have a "guarantee" … But my promise, is if I don't produce
MORE revenue than what you have paid me throughout 12 months
(which is $17,964), than I will keep at it until you think I did …
Business Coaching


and working with you
I can't work with everyone … Do you qualify?            
While I would love to help everyone that has requested my expertise, I have to
select the clients I work with carefully and have a reasonable set of criteria that
needs to be met in order for me to proceed and help with your Business growth …
I only work with a limited number of clients at any given time to ensure maximum
attention to detail and ensure I am doing everything in my power to help them succeed.
But, keep this in mind … The Communications, Bronze, Silver, and Silver Plus Pkgs
were created and stuffed with amazing and powerful information, for those who either
don't want to work with me (or someone else), and maybe want to provide their staff
or inside Marketing person with outstanding material … OR, if you just want the best
info money can buy all to yourself … Then, these "Packages" are your best option.
Here's how you would qualify

You would love to learn how to grow your business …
You have no issue with being "Coached" or "guided"
with the growth and the future of your business …

That's it! Do you meet the criteria?
If you meet the criteria, I want to speak to you personally about helping you
and your business grow better than you may have ever imagined it could …
First, you'll need to fill out this "discovery" form
Simple and unobtrusive. I need to know what you're selling, get an idea of what you want to
accomplish, and so forth … I'll review your goals, your offers … I'll deliver a custom plan to
grow your revenue and customer base based on your answers I accumulate …
The FORM Page is thru this link
The FORM PDF is thru this link
(With the PDF, you can fill it out in Google Docs, print it out, fill in the
blanks, and get it to me, or, you can just put your answers in an email.)
SUMMARY
Communications Package
101 Marketing & Business Tips … 24 Marketing & Business Articles
12 Ebooks or Reports … 12 Advanced Business Coaching Lessons
BONUS … The Million Dollar Business Card
Bronze Package
52 Tested & Proven Business Coaching Strategy
Lessons (get 1 every 10 days approximately)
BONUS … The Million Dollar Business Card
BONUS … The Elevator Pitch Template

Silver Package
52 Strategic Business Coaching Full-Lesson Ebooks …
Bonuses: You will get these proven templates for success:
BONUS … Ad Template
BONUS … Compelling Message Template
BONUS … Conversion Equation Evaluator
BONUS … The GAP Analysis
Silver Plus Package
The 52 Strategic Business Coaching Full Lessons as in the
Silver Package, but on VIDEO … Each Video is 20 – 40 minutes …
BONUS … The Landing Page Guide
BONUS … Quick Start Coaching Guide
Gold Package – Tactical
This is all about "implementing" 1, 2 or more methods … It depends!
We will discuss the appropriate choices, and we will choose wisely

Gold Package – Strategic
This makes me your Business Coach … The Coaching,
the guidance, the help that you want and need to succeed …

Premium Package
A combination of Tactical Implementation and Business Coaching …
It's the best I have … And your chance of success will be a forgone
conclusion sooner or later … Tested & proven tips, strategies & ideas.
The Software
The Main Site Showcasing All 5
Monitor Everything & Get Leads Too
Dave Smith
IMJustice Marketing