Services
There are countless numbers of Marketing services for many different reasons …
The below packages are mostly what I offer … Each one is uniquely different from the
others, and need to be explained to what they are about and how they can help …
The whole idea for a Professional in this business, is to work to have any client
paying for services, with the excess revenue that is generated from the work …
That is of course my goal!
The BIG 5
Marketing SEO and Brand Audits , Business Funding , Website Security (SSL) ,
Claiming your Business Online , and the "Speed" of your website(s).
Every one has a specific purpose. Some you are probably aware of,
and some, are from critical updates & algorithm changes that we MUST
comply with, or it will cripple our business and online footprint.
The importance of this going forward, is far greater than you know, and until
we talk, someone else does them for you, or you read about it. They will now
be an obstacle for you to generate the revenue you so desire and deserve.
The Packages
Communications Package
With this package I will be available through email, the phone, and even face-to-face.
You will have the ability to ask me anything, lean on me, and ask for pointers or answers
to any Marketing, Revenue, Profit, or Business challenges … Your "go-to" Consultant.
Included, will be 2 tested & proven tips weekly, and also 1 Coaching video per month.
Implement ONE tip, and your business may transform right in front of your eyes. This
package is great for those who may not want to hire me for their Marketing, but would
love to have someone they can count on for information or guidance whenever they
need it or want it … Besides getting great tips, strategies and ideas every month …
Bronze Package
In addition to what you get with the Communications Package, the Bronze Package
adds (at least) 52 tested and proven Coaching lessons, from the top Business Coaches
and Marketing Experts who operate in 25 different countries. You will get 1 per week,
delivered to your inbox. And as always, communicating with me will be open any time
you need a sounding board, advice, guidance, or assistance to grow your business …
Silver Package
In addition to what you get with the Communications and Bronze Packages, the lessons
and tips are expanded … Templates that are proven for success are included … That
includes Elevator Pitch, Ads, Compelling Message, and the GAP Analysis templates,
as well as the Conversion Equation Evaluator, and a Quick Start Coaching Workbook.
Plainly, more time and effort is provided for your Marketing and business success …
Gold Package – Tactical
This package will be all about implementation of Tactical Marketing methods.
When you want me to "perform" the methods chosen or agreed upon, this is
the package to choose for that. Pick one method, or pick a couple or a few.
The price set for this package is for one Tactical method. But, discounts due
apply if multiple choices are requested.
Included in this list, are as follows:
Pay-Per-Click Ads (PPC), "Traffic Generation" monthly services plan,
Video Marketing, Digital Content Marketing, Blogging, Email Marketing,
List Building, Online Directories, Press Release Marketing, SEO Marketing,
Reputation Management, and anything related to Lead Generation.
There is a separate plan of action for Websites … Typically, $500 to create,
an additional $250 to $500 to optimize and fill with content … Also, there
will be a rather small monthly charge for the hosting and maintenance …
Gold Package – Strategic
In essence, this package is for hiring me to be your Business Coach …
This package will be all about Strategic Marketing tips, strategies and ideas.
There are an endless amount of Revenue and Profit Generating tested and proven
Strategies that transform any business … They work, and they are very effective …
As I will be your Business Coach, this is not the actual "implementation" like in the
Tactical Package I offer … If you favor using me for that purpose, then we will be
discussing the extra cost, or we could even change the "package" if that suits you.
Weekly lessons will be delivered to your inbox. They are the best rated Business
growing Strategies and Tactics. We can communicate at random, or whenever
you need to have a discussion … I am your Business Coach, and I will help you
achieve the business and life you desire … Even if you take the information, and
have your staff or another Marketing Professional perform that specific task ..
Premium Package
This is the best I have to offer to grow your business … You will get everything you
see here, along with both Tactical and Strategic Coaching Packages combined.
The Tactical method chosen in a lot of cases is about Lead Generation … That
would be through Ads or Organic methods … But, you may have something else
in mind, and that would be fine also …
For this package and cost, I am pretty much your Marketing Department … Your
communications will always be first and foremost, and you will be prioritized over
other clientele, as I am sure that makes sense … You are my Premium Client …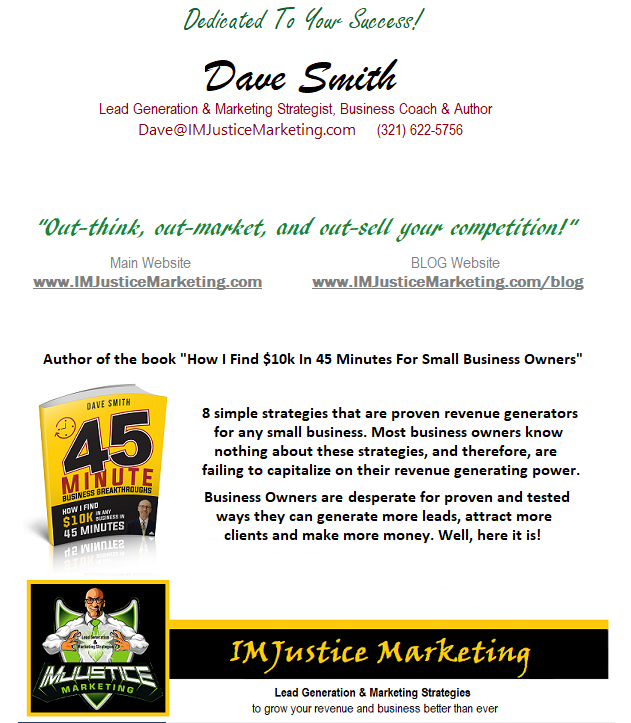 DISCLAIMER:
We arrive at our pricing by, time involved, software & assets used, our expertise, what the
rest of the market is doing, and the ability to deliver. The ultimate goal, is to increase your
exposure, revenue, and have you be the "go-to" professional in your local market …
About "performance"
There are no guarantees of success in the business world. All you can do is implement
the best proven products and services from around the world, communicate, and try to do
them well. Hopefully, you can see results rather quickly, and then expand on those results.
My ultimate goal, is to have clients pay me monthly out of the revenue or profits I generate.