Is Reputation Management really that important?
Yes. Reputation Management can literally make or break your business. In this
dominant digital world, the internet is often the first place consumers look for
information on local businesses. Consumers now voice their opinions of
different products and services online. They can even do it anonymously.
There are no real laws in place which state what people can and cannot write
about a business. Just as consumers can write positive reviews about your
company, so too can they write something negative whether it's true or not.
If you don't take measures to ensure your potential customers are met
with POSITIVE info about your brand when they stumble across you online,
the impact can be damaging.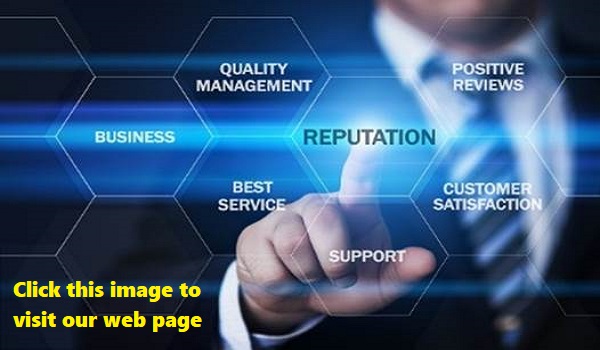 What is Online Reputation Management?
Online Reputation Management uses a range of techniques to basically make you look
good online. It largely revolves around building positive reviews from your customers
and releasing new, positive content that pushes any negative content further down the
search results. Existing content can also be improved upon to establish the same goal.
Of course, simply creating new content and publishing it will not cause it to rank highly
on search engines. SEO needs to be used to make sure it rates as highly as it could.
Can you erase negative comments or reviews?
No. It isn't possible to erase existing negative comments or reviews.
However, you can always address any negativity publicly and privately
to show your customers and prospects that you care.
What if my competitors are intentionally posting false,
negative information to hurt my business?
If you believe the negative comments written about your business are fraudulent,
there are things you can do to try and get them removed. You can file an online
defamation lawsuit. This applies if the comments have been posted specifically
to damage your livelihood and reputation. If you win the case the website will
have no choice but to remove the comments and also reveal the identity of
whoever posted it. Keep in mind that a lawsuit will cost a lot of money. Unless
the comments are continuously posted or they have caused significant damage,
online reputation management services are a much better and cheaper option.
How long before I see results?
Result times do vary. It will depend upon how much damage has been caused and
the type of services you require. We customize each service to suit every individual
business we work with. Some businesses have seen results in days, others in weeks
and some within months. We can give you a better time-frame once we know your
exact specifications.
How much do you charge?
Just like the results, the costs will depend on your individual situation as well.
Once we've had a chance to review the scope of your online reputation,
we'll be able to provide you with a  detailed quote.
Don't see the answer to your questions?
Contact us today and we would be happy to speak with you!
[wpforms id="53050″]