Blogging to Generate More Leads For Your Brevard County Business
If you want to give your website's search engine ranking a boost and increase the number
of organic leads that you receive, then you need to develop a search engine optimization
(SEO) strategy. A complete SEO strategy involves several factors, including optimizing your
web pages, backlinking, keyword research, and most importantly, generating high-quality
content that both your audience and the search engines will love. One of the best ways to
develop linkable and shareable content is with blogging.
Blogs are content management systems that are either on your main site, or in a sub
directory or sub-domain, and they contain various functions like RSS feeds, trackbacks,
and comments. What very few people realize are the benefits they can gain by having
an optimized blog containing relevant content. When it comes to creating more leads
for your business, there are many benefits that you can gain from optimizing your blog.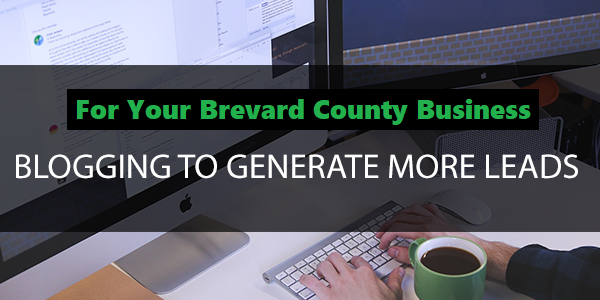 Rank Higher with Fresh Content
When you continually update the content on your website, you increase your chances of
ranking higher on Google and other search engines. Your company blog offers a fantastic
way for you to refresh and update your site. Not only will this help to attract and keep
customers on your site naturally, but the search engine bots also love sites with fresh
content. When it comes to SEO, content is king. All of the best SEO strategies are based
on creating good content. Fresh and relevant content is useful to users and will help build
interest in your product or service among potential customers.
Have Greater Control Over Your Content
When you are able to produce more unique, useful content for your blog, you have
complete control over the message that you are trying to provide to your target audience
about your product or service. With SEO optimization you are in full control of your keywords,
as well as the links that you place in your posts. Continually providing fresh content for your
blog gives you substantial power over your online presence.
Gain Better Internal Linking Within Your Website
This benefit of a fully optimized blog is closely related to having greater control of your online
presence. With the ability to control the content that you place on your blog, you can decide
to link to different sections of your blog posts to the various pages on your website using the
anchor text that you choose. Not only does this kind of linking tell the different search engines
what to look for on your site, but it also directs potential customers to your landing or sales pages.
An Easier Way to Attract Inbound Links
One of the most critical factors that you need to consider when it comes to search engine
ranking is back-linking. When Google's bots find a website that has no back-links, it assumes
the site has little to offer. However, a domain that has plenty of back-links is more likely to be
ranked much higher in the search engines because it most likely contains useful content. It is
essential to keep in mind, however, is that the back-links should only be from related or highly
respected websites. If your site contains too many back-links that aren't relevant, it could end
up being penalized.
This is where you can significantly benefit from hosting a blog. Not only does each post
you create offer interested visitors a link that they can share, but you can also generate
back-links yourself by sharing some of your posts with your Social Media network. Your
visitors will always share some posts more than others, so carefully tracking the posts will,
in time, give you a better idea of the content you should be creating for your target audience.
Add More Variety to Your Website
Since search engines are looking for content that will be useful to users, you are limited
regarding how much content you can have on your website. However, if you host a blog,
it will allow you to write about anything that you feel your audience will benefit from and
that will help them make a decision on whether to buy your product or service.
It is highly unlikely that you would place 'how-to' or list articles on your main site,
yet these have proven to be some of the most popular topics searched for online.
Blogging helps to fit in content that is commonly searched for online while helping
to increase the potential number of visitors you receive from your blogged content.
Publish Content That Would Otherwise
Hurt Your Ranking
In addition to creating regular blog posts, blogging software is ideal when you want to
rank higher on the search engines and get links to certain types of content that could
ultimately hurt your main site's SEO. These include frequently asked questions, product
updates, newsletter archives, and online media rooms. Hosting a blog will not only form
an essential part of your overall SEO and lead generation strategy, but it is also excellent
for improving your credibility and giving your company a personalized voice.
Focus on SEO
According to a recent study, 75 percent of people never scroll past the first page of the
search results. Spending countless hours writing, rewriting, and editing your content,
so that it can collect dust on the second page of Google's search results can be a
tough pill to swallow. If you want to increase your search ranking, then you have to
focus on creating a highly optimized blog with SEO in mind. And this generates leads.
Identify Authoritative Links
Page authority is a metric that is measured by almost every SEO tool, and it calculates
how well a specific page on your site could rank in a search. There are dozens of different
factors that can affect this, including the number of inbound links, unique IPs linking to a
given site, and individual domains. The higher the page authority, the more likely that page
will rank higher in the search engines. The high authority pages can also help to boost the
ranking of other pages on your site by simply linking to them. (A trade secret!)
Apply the Information
Once you've discovered your high authority sites and the high-positioned keywords, you can
use this information to increase the search ranking of the rest of your web-pages, by using
long-tailed keywords to link to relevant pages on your site. A company blog will provide you
with many distinct advantages, but you need to be sure to implement it in a smart way, and
you need to be willing to put in the work of optimizing your blog and refreshing your blog's
content on a regular basis. Thus, taking the time to ensure that you commit to the process
of blogging will provide you with a significant payoff.
Hopefully, regular readers of your blog will usually give a boost to your visibility by sharing
items of interest, especially on Social Media. Or, contacting you for more information or help.
[contact-form][contact-field label="Name" type="name" required="1″][contact-field label="Email" type="email" required="1″][contact-field label="Website" type="url"][contact-field label="Let me know how I can help with your blogging questions or interest" type="textarea"][/contact-form]